We're all very excited to have a brand new, amazing addition to the Atlanta Burlesque Community. Mickie Sinn has recently relocated from Austin, Texas, so please give her a warm welcome! I'm very excited to get to work with her in the future!
1. How did you come up with your stage name and tag line? Does it have a special meaning to you?
I had a heck of a time coming up with my name. I thought it about for years before I ever worked up the nerve to perform. I knew I wanted something playful and just sort of cutesy. I love the early 20th century and I love when girls have names that are versions of traditionally male names so maybe a week before my first performance I settled on Mickie Sinn. I was honestly just tired of thinking about it but it's stuck. It's a play on Mickey Finn, both the person and the slang term for a knockout drug. Everyone assumes it's Mickey Mouse but it really wasn't even though I do wear a lot of Mickey stuff now. My tagline is still a work in progress. I usually go with "She'll slip you a little temptation." The emcee for the Jigglewatts, Jade Esteban Estrada aka Pretty Boy Rock, thinks I sound like a liquor brand and [that] then my name turns into a cheesy booze commercial. "Had a bad day? Why not pour yourself a little Mickie Sinn."
2. How did you get started in burlesque?
I attended my first show in 2006 at SXSW in Austin purely by accident and I loved it. It happened to be Cardinal Cyn performing between sets for an Austin rockabilly group. But it was several years before I really started going to more shows, probably around the time I met my husband actually. I really wanted to do it from that first moment but I had no idea how, thought I was too broke, too clumsy and was definitely too shy. I didn't realize until later we're pretty much all broke showgirls. While I was planning my wedding in 2012 I attended a class Coco Lectric was teaching but timing was bad and I didn't start classes again until 2013. It's been a whirlwind ever since. I have been training with Coco and Ruby Joule under the Austin Academy of Burlesque umbrella most of that time as well as other Austin and guest performers teaching 6 week and drop in workshops. Now that I am in Atlanta I can't wait to gain more knowledge from a new group of performers.
3. What has been your best moment as a performer so far?
Oh my! That is hard to pinpont. This past year I have done so, so much despite being a new performer. It'd be a tie between doing the Viva Dallas Valentine's Show where I had an audience member follow me back up on stage when I went down to the VIP as part of my number. But I went with it and made him part of the act and we had everyone laughing. And then probably getting to compete in Edmonton, Canada and winning most comedic in the Bunny Competition. But honestly the best part of that was having Waxie Moon and Canadian Wolfman tell me I did a great job and that they enjoyed it. Having someone you look up to you say that and even go up to your husband to say that is just amazing and still gives me the warm fuzzies.
4. What is your favorite act to perform?
Right now my Daddy number. It's a 20s piece to a White Ghost Shivers, a local Austin band that actually played at my wedding, cover of Daddy, Won't You Please Come Home? I love doing it on a small stage where I can go out and play with the audience.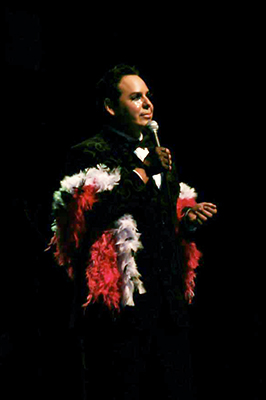 Photo by MARKUS ALIAS
5. What is your burlesque dream show?
A show where the whole audience is paying attention? I have been giving this some thought the last few days. It's silly but a show on a gorgeous, historic stage where I can perform with my friends and idols, have an amazing audience, amazing lighting for a change and just have a ball!
6. Where do you see your self in the next five years?
I have had to think a lot about that lately with my husband and I relocating for his work to Atlanta very unexpectedly and quickly. I have a strong and close knit Austin burlesque family and it's been scary as hell to realize you are about to pick up and have to start all over without that support system nearby. Thank goodness for internet and text messaging! And that Atlanta folks have been very welcoming. I really hope that over the next five years I am able to continue to combine my love of travel with my burlesque career and be able to say I performed in fun new cities and countries. I hope to be a role model for even just one new performer by then because I have been so lucky to have been able to learn from the most amazing performers both on and off stage and I want to be able to share that knowledge and joy with others. And having produced my own show by then, even if just one. I have helped put together a fundraiser show this summer so I know I am not nearly ready to produce a full show. Chasing performers gives me a headache. Wait! I mean I love you all!
7. Tell us something outside of burlesque that you are involved or interested in.
I love food and wine. It came down to burlesque workshops or starting training to become a sommelier. I may still do that someday as I would love to own a wine, chocolate and cigars shop or an olive oil shop. Don't get me started on the amazingness of fresh olive oils. I love to try new restaurants and go to local vineyards. My husband and I make an annual pilgrimage to New Orleans just to stuff ourselves silly.
8. What do you think is your greatest skill, not including burlesque?
Driving my husband crazy and making messes and being able to decorate my house on a beer budget despite my champagne taste. My muggle degree is Interior Design so that probably explains my champagne taste.
9. What are you most looking forward to this year as a burlesque performer? As a civilian?
Hopefully getting to travel a bit more both as a performer and with my husband. We were hoping to make it to Cuba this year but not sure it is going to happen with the cross country move. His mother was born there. I am also looking forward to getting settled into Atlanta, meeting new people and becoming an active member of the Atlanta glitter community.
10. Who is your favorite performer to watch?
There are so many people I admire and love to see on stage: Waxie Moon, Imogen Kelly, Paco Fish, Perle Noire, Ruby Joule, the list goes on. And I mean who doesn't love all of the Stage Door Johnnies? It's a toss up right now between two members of my own burlesque family though. Does that fall under nepotism? I have seen Coco Lectric perform for hundreds of people, taking home Queen of New Orleans Burlesque and I have seen her perform on the awkward Gibson stage in Austin to 20 people and no matter how many times I have seen a number, I know it'll be different and [that] she is going to be amazing. It doesn't matter what is going on off stage that woman puts on that 1000 watt smile and kills it. My other favorite is my burlesque sister, Lola LeStrange. She is a little bit of Coco, a little bit of Perle Noire and a whole lot nerdy Comicon goodness wrapped up into this busty, fiery package with the biggest grin in the world. We pretty much started at the same time and I remember thinking in class that this girl is a nut so this should be interesting but from the minute she took the stage for her debut last fall she has been on fire. I am like a proud big sister every time she performs and I can't wait to see her take the rest of the burlesque world by storm.